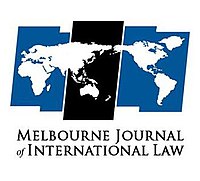 The Editors of the Melbourne Journal of International Law ('MJIL') are now inviting submissions for volume 19(2).
The deadline for submissions is 1 July 2018. MJIL is a peer-reviewed academic journal based at the University of Melbourne which publishes innovative scholarly research and critical examination of issues in international law.
Submissions and inquiries should be directed to law-mjil@unimelb.edu.au. For more information please visit http://law.unimelb.edu.au/mjil/submissions.